Lake Buchanan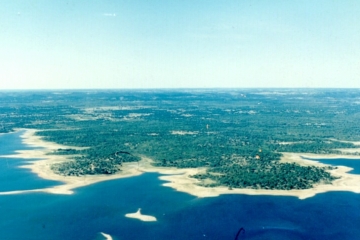 The W5KFT Ranch Station is located on the western shoreline of Lake Buchanan in the Texas Hill Country. The lake is located about 22 km (14 m) west of the city of Burnet, Texas, and is a popular recreational destination. About an hours' drive northwest of metropolitan Austin, Texas, the lake attracts both recreational boaters and sport fishing enthusiasts. Ranch land near the lake is also a popular hunting destination during the white tail deer season. Fall Creek Vineyards, the oldest winery in the Texas Hill Country, is located north of the ranch, where Fall Creek drains into the lake.
Lake Buchanan is a reservoir maintained by the Lower Colorado River Authority. It was impounded in 1939 by the creation of Buchanan Dam, the widest multiple-arch dam in the United States. The dam is 3.35 km (2.08 m) long, 44.3 m (145.5 ft) high, and took seven years to build. The reservoir was formed both to provide a water supply for the region and to provide hydroelectric power. With a surface area of over 90.4 km² (34.9 m²) when full, it is the largest of the Highland Lakes reservoirs on the Colorado River, and is the furthest upstream from the Gulf of Mexico. In addition to maintaining the reservoir itself, the LCRA maintains three public parks at the lake.
The W5KFT Ranch Station is located within meters of the lake shore. Lake Buchanan is level-controlled, which means that the LCRA will not permit it to flood. It is not, however, a level-maintenance reservoir, which means that in times of drought, the lake level will be allowed to fall in order to keep other reservoirs downstream at a constant level. The conservation elevation of the reservoir is 311 m (1020 ft) above sea level. The historic high elevation was 311.3 m (1021.4 ft) on December 20, 1991. The historic low elevation was 299.8 m (983.7 ft) on September 9, 1952. Lake Buchanan can be the last reservoir in the Texas Highland Lakes chain to recover and return to its conservation volume after a period of prolonged drought.