Robert Brandon K5PI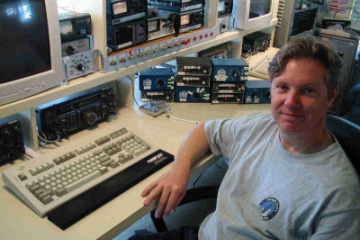 Robert Brandon K5PI was first licensed as WD5AAT in 1977. With a growing interest in DXing, Robert became involved with the Central Texas DX & Contest Club in 2000. From his modest, tribander and wires home station in south Austin, Texas, Robert began increasing his DXCC totals and began really enjoying the action in the major DX contests. This interest soon led to an invitation to try a few CW contests as a guest operator at the W5KFT Ranch Station.
Robert's first contest at the W5KFT Ranch Station was in the Single Operator Low Power category of the 2000 NCJ North American QSO Party, CW, August. In 2001, he entered the August CW NAQP again, and then began operating from the station more frequently, including efforts in the 2001 ARRL November Sweepstakes, CW, the Single Operator CW Only category of the ARRL 10 Meter Contest, and the NCJ CW Sprint in September. Robert began to take over from George Fremin III K5TR as the primary guest operator of the W5KFT Ranch Station, and undertook many projects inside the station to improve the reliability and automation of the station as a serious Single Operator Two Radio (SO2R) contest station.
From 2000 to the present, Robert has operated in over 60 contest efforts from the W5KFT Ranch Station. His victories include first place in the Multi-Operator Two Transmitter category of the NCJ North American QSO Parties on CW in August, 2001 and on RTTY in July, 2004. Robert has also earned Top Ten finishes as a single operator in the August CW NAQP and the IARU HF World Championship. No other operator has been a part of as many contest entries from the W5KFT Ranch Station as Robert Brandon K5PI.